Shopping Basket
Your Basket is Empty
There was an error with PayPal
Click here to try again
Thank you for your business!
You should receive an order confirmation from Paypal shortly.
Exit Shopping Basket
Get Better with Bearwood - For Every Body that Moves!
| | |
| --- | --- |
| Posted on 18 April, 2021 at 3:45 | |
This week in our https://www.instagram.com/bearwoodphysiotherapy/" target="_blank">#HomeWorkingSeries we're talking about Carpal Tunnel Syndrome. Check out our Instagram https://www.instagram.com/bearwoodphysiotherapy/" target="_blank">@bearwoodphysiotherapy for the highlights or keep reading to learn a bit more about it.
With 1 in 10 of us experiencing Carpal Tunnel Syndrome at some point in our life times it's a fairly common issue, now add-in typing away on your laptop all day or spending hours on that DIY project and there's a fair chance you could get some wrist and hand pain.
Carpal Tunnel Syndrome often causes pins and needles, numbness and odd sensations in the wrist and hand, particularly within the first 3 digits and as time goes on the hand, wrist and forearm can become weaker. The nerve affected in Carpal Tunnel Syndrome is the median nerve, it's the main nerve along the front of the forearm, into the wrist and down into the first 3 digits.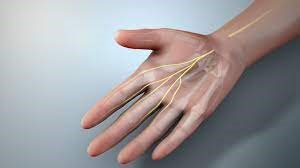 Capral Tunnel syndrome is the most common compressive neuropathy, it's caused by pressure on the median nerve as it passes through the carpal tunnel. The carpal tunnel is a tunnel between the small carpal bones of the wrist and the flexor retinaculum (thickened band of fascia tissue to help stabilise tissues).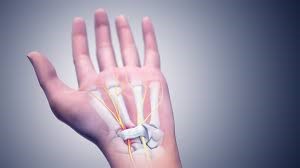 Carpal Tunnel Syndrome is one of the most frequently reported occupational health concerns, it is linked to many different professions and those particularly affected are those where you use your hands a lot; labourers, fabricators, operators, care and leisure workers (beauticians, therapists, etc.) and those who send a lot of time typing (administrators, sales, etc.)
It's not surprising that this condition is so common and adding in those long hours typing on your laptop (rather than an ergonomic keyboard) and those DIY projects your embarked on and it's not surprising that your wrist and hand may hurt.
Alongside this, Carpal Tunnel Syndrome can be caused by medical conditions such as Diabetes, Hypothyroidism and Arthritis. You're also more likely to get Carpal Tunnel Syndrome if you're overweight or obese, if you're overweight your 1.5x more likely to suffer with Carpal Tunnel Syndrome and if you're obese this rises to 2x more likely.
Carpal Tunnel Syndrome is more common in women, particularly when going through hormonal changes such as the menopause as well as pregnancy. Up to 43% of women will suffer with Carpal Tunnel Syndrome during their pregnancy and this is due to increase fluid and oedema in the hands and feet.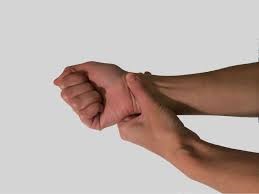 It's important to make sure you have Carpal Tunnel Syndrome rather than another condition which may look similar, such as Cervical Radiculopathy. Make sure you get checked by a Healthcare Professional to be sure but typically Cervical Radiculopathy includes neck pain and can be made worse by neck movements whereas Carpal Tunnel Syndrome is usually localised to the hand, wrist and forearm.
Common features of Carpal Tunnel Syndrome are:
• Paraesthesia
• Dysesthesia
• Weakness of the wrist and hand
• Difficulty gripping and pinching
• Night pain (often caused by lower oxygen levels and cooler temperatures)
Carpal Tunnel Syndrome is often diagnosed clinically with positive Tinel's and Phalen's tests. Alongside these it can be diagnosed with ultrasound and electromyography (EMG).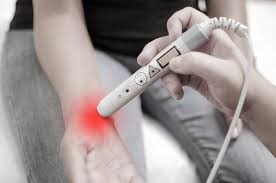 Treating Carpal Tunnel Syndrome can take some time and some people will need to have surgery to resolve the compression. Before reaching that point, it's important to ensure you have trialled all conservative (non-surgical) options first.
The most effective conservative treatments are considered to be splinting, particularly overnight. Splints can be worn at the times your symptoms are most aggravated however they shouldn't be worn continually for prolonged time periods.
It's also important to help reduce inflammation and some times a course of Steroids or Non-Steroidal Anti-Inflammatories (prescribed by your Doctor) as well as making sure your hand, wrist and forearm remains strong and mobile. This is important as overtime Carpal Tunnel Syndrome can lead to muscle weakness and wasting make your recovery much more difficult. A Physiotherapist will be able to provide you with an exercise regime to do this as well as help ensure the median nerve and tendons of the hand are moving well and help reduce your pain.
Alongside these, myofascial release can be really helpful in reducing tightness in our connective tissues. Our median nerve is protected by connective tissues along the arm, wrist and hand and these connective tissues can thicken and tighten for many reasons. Myofascial release is a slow sustained treatment which helps relax and lengthen the connective tissue again which often results I more movement and less pain almost immediately!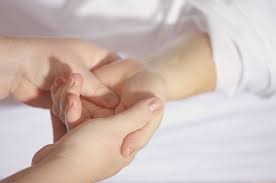 Now get in contact with your local Healthcare Professional to start your recovery.
References:
Burton, C., Chen, Y., Chesterton, L. and van der Windt, D., 2018. Trends in the prevalence, incidence and surgical management of carpal tunnel syndrome between 1993 and 2013: an observational analysis of UK primary care records. BMJ Open, 8(6), p.e020166.
GEOGHEGAN, J., CLARK, D., BAINBRIDGE, L., SMITH, C. and HUBBARD, R., 2004. Risk Factors in Carpal Tunnel Syndrome. Journal of Hand Surgery, 29(4), pp.315-320.
Huisstede, B., Hoogvliet, P., Randsdorp, M., Glerum, S., van Middelkoop, M. and Koes, B., 2010. Carpal Tunnel Syndrome. Part I: Effectiveness of Nonsurgical Treatments–A Systematic Review. Archives of Physical Medicine and Rehabilitation, 91(7), pp.981-1004.
Padua, L., Coraci, D., Erra, C., Pazzaglia, C., Paolasso, I., Loreti, C., Caliandro, P. and Hobson-Webb, L., 2016. Carpal tunnel syndrome: clinical features, diagnosis, and management. The Lancet Neurology, 15(12), pp.1273-1284.
Cdc.gov. 2021. Work-Related Musculoskeletal Disorders & Ergonomics | Workplace Health Strategies by Condition | Workplace Health Promotion | CDC. [online] Available at: [Accessed 18 April 2021].
Categories: None
/